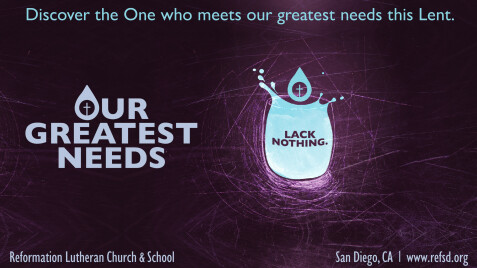 Worship Services
What do you really need right now? To answer that question, one must first define what a "need" is. We understand that a "need" is greater than a "want." If you lack something you want, life goes on just fine. If you lack something you need, that presents a problem. Thus, to correctly answer that question, "What do you really need right now?" ultimately you must understand your greatest problems.
Humankind's greatest problems are universal. We all live under the curse of sin. That sin makes us utterly helpless in our natural state. Natural man is confused and unable to truly make sense of life. Left in sin, man is doomed to death, and not just physical death. After one's heart stops comes another type of death that is infinitely worse, an eternal nightmare.
Lent is the season of the Church Year where we wrestle with our greatest needs. Lent also demonstrates that in Christ, all our greatest needs are met. Here is what the Spirit makes clear this season: If you lack Christ, you have nothing. But if you have Christ, you have everything you truly need.
This Lent, discover the One who meets our greatest needs. Join us each Sunday at 8AM or 10:30AM for Our Greatest Needs: A Worship Series for Lent at Reformation.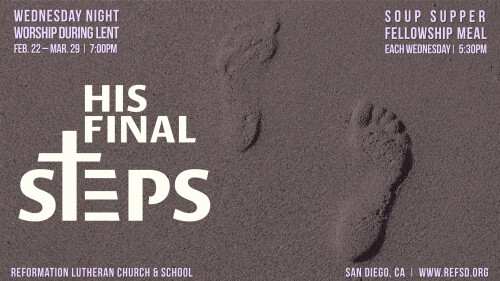 His Final Steps– Midweek Lent 2023 at Reformation
Down through the ages, the Christian church has gathered in special preparation for the commemoration and celebration of the events at the center of God's plan to save us – the events of Holy Week. This forty-day preparation is called "Lent" and it spans from Ash Wednesday (February 22) through the completion of Maundy/Holy Thursday (April 6).
Since the Divine Service every weekend is a remembrance of Easter, the Sundays within the Lenten season are not counted as part of the forty days. As a result, the readings from God's Word that we hear on the Sundays in Lent anticipate the victory of Easter rather than follow Jesus' path of suffering. Instead, the church focuses on the passion of Jesus (from the Greek word "πάσχω, paschoh", which means "to suffer") during midweek Lenten worship services. That means that our yearly recounting of Jesus' final steps on the "way of the cross" is heard only during the Wednesday worship services of Lent. Those who annually forgo midweek worship during Lent miss out on reading, meditating upon, and "inwardly digesting" the great events by which Jesus took up our pain and bore our suffering (Isaiah 53).
This year, the overall theme for our midweek Lenten worship is "His Final Steps." Over the course of this series, we will ponder the significance of the people and places on Jesus' resolute final steps to the cross, and, three days later, his first steps from the tomb.
Join us at Reformation each Wednesday for worship at 7:00pm as we ponder Jesus' great love for us that moved him to consciously and willing take those final steps for us and our salvation. You are also invited to join us for soup suppers beforehand in the gym, beginning at 5:30pm. For more information, visit www.refsd.org or find us on Facebook www.Facebook.com/ReformationSanDiego.
Ash Wednesday (Feb. 22) John 11 (selected) His Final Steps Led to a Tomb
Midweek 2 (March 1) Matthew 21:12-17 His Final Steps Led to His Father's House
Midweek 3 (March 8) Mark 11:12-14,20-25 His Final Steps Led to a Fig Tree
Midweek 4 (March 15) John 12:20-33 His Final Steps Led to Some Greeks
Midweek 5 (March 22) John 12:1-11 His Final Steps Led to a Dinner Celebration
Midweek 6 (March 29) Luke 20:9-19 His Final Steps Led to His Enemies
Soup Suppers during Lent
Join us each Wednesday night during Lent for a soup supper in the gym at 5:30pm. Each week the supper is sponsored by a different board or group here at Reformation. If you would like to help by providing soup, salad, bread, or dessert, or, if you would like to help with set-up or clean-up, please contact the leaders of the sponsoring board or group. You can email the church office to sign-up or get connected with the various group leaders. If you have any questions, please contact the church office. Thank you!
February 22 – Women's Life Group
March 1 – Church Council
March 8 – Board of Education
March 15 – Board of Elders
March 22 – Board of Property Trustees
March 29 – Congregational Volunteers
Join Us for Worship Services Sundays at 8:00am and 10:30am

Location
4670 Mt Abernathy Avenue
San Diego, CA 92117
Phone: (858) 279-3311